A computer science graduate recently shared her degree certificate on a populous Facebook page expressing frustration for lack of a job.
However, this isn't the case for one Ken Mwangi who quit his job as a banker to work as a bicycle mechanic.
Ken, a Bachelor of Commerce, Finance option graduate started working at one of the leading Micro-finance banks in Kenya immediately after his graduation but quit two years later.
He is not keen on returning to the banking industry again. He has employed two of his friends at his bicycle shop where they repair and sell bikes.
In 2015, Ken started Top Team Cycles in Lang'ata where he repairs and sells ex-UK bikes. His shop retails bicycles for adults, children and even toddlers with prices ranging from Ksh10,000 to Ksh 65,000.
"I have loved bicycles since my childhood days. It all started the moment I realised a problem with my body and decided to cycle a lot to lose weight. It was a struggle but everything has changed now," admits Ken.
During his college days at the Kenya College of Accounting (KCA University), Ken juggled between repairing bikes for his friends and classwork. He could give cycling lessons to some of his colleagues and sold bicycle accessories.
The young entrepreneur says his undergraduate training still applies to his business. He has employed some of the techniques learned from college to manage and run the promising venture.
On a good day, Ken, after paying his two assistants, takes home at least Ksh2,500 from services offered at his shop, a hustle he says has good earnings on weekends and during school holidays.
He gets most of his income from profits on bike sales and repair and maintenance services. He also trades in bicycle accessories alongside offering cycling lessons.
"To me, this is not just a business. I am looking at this venture as a possible way to promote a cycling culture. People can use bicycles for fun or as an option for public transport when going to town or to their workplaces," advices Ken.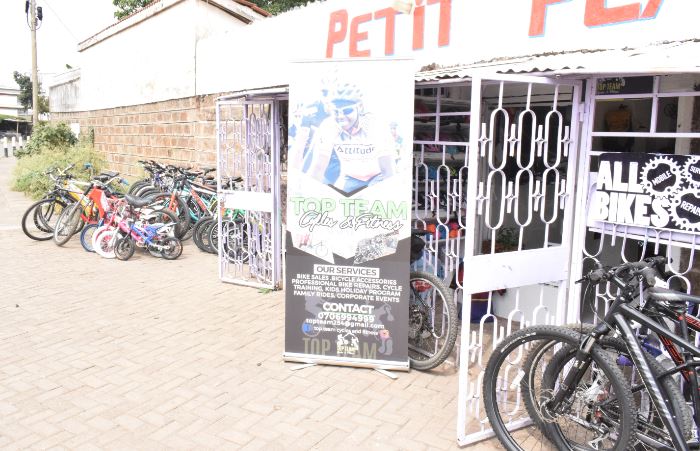 He goes on to state that it is possible for people to attain good physical health as he had witnessed many parents taking time off on weekends to cycle with their children for fun and keeping fit.
"We basically have the best bikes around. Anyone can use them to have fun at places like Karura, or when going to work. You can see cycling is what helped me lose weight, it worked for me and I have never stopped exercising since then," advises Ken.
He hopes to expand his business across all residential areas in Nairobi in a bid to woo more city dwellers to embrace a cycling culture. In so doing, Ken believes many would live a healthy life and the venture will create jobs for more people.